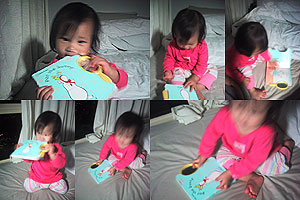 The little girl loves this book. We have went to the library to borrow quite a number of books, but none have got her attention as much as "Pat the Bunny. Guess Who?".
Pearl and i have read this book many times to her but she don't seems to get bored of it. We have read other books and almost anything with text on it like cereal boxes, catalogues, etc… but nothing comes close to second to this book. We have both read this book so many times to her, we can both memorise the whole book.
But as you can see other than the mirror at the side of the book, the whole book is also very interactive to her as well. I've got to get her the whole series.