Daddy have been working alot in June and barely had time to spend with Clié and Cleo, but at the last day of the school vacation, Daddy took leave even when he was very busy to bring the girls out.
The day started with a Mac Breakfast at East Coast. There were pancakes, cold milo and a playground just next to our table.
After the nice morning meal, it was to the skate rink just nearby.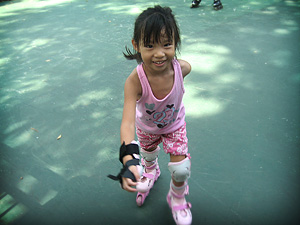 Clié have been practicing alot at the void deck and this time round its time to skate in a real skate rink with other people skating as well. Thank God there were other kids there as well, so Clié did not feel that shy like the last visit. This time round she skated, skated and skated.
For a kid her age, i think she skates well. only 1 fall the whole day. Good job.
After the skate session, it was off to Courts Tampines to play computer games and be entertained electronically. Clié and Cleo both had fun.
Then it was packed lunched back home where art and craft took place. A bit of an afternoon rest and it was time to shower, get changed and to pick mommy up for dinner.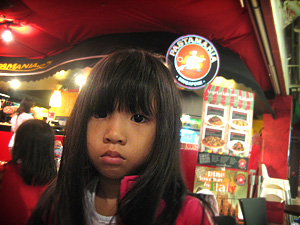 Clié wanted pizza, but Pizza Hut at Plaza Sing was so full that the waitress actually recommended us to go Pastamania instead and we did. By dinner time Clié was super tired, you can see from her face that she had an excellent day and it was time to say good night.
Good night Clié my darling… may you have beautiful dreams…