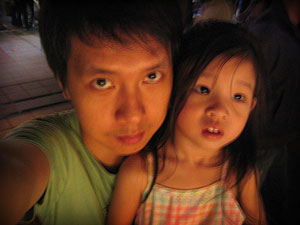 My darling, my girl, i can't wait for you to grow up, but at the same time, neither do i want you to ever grow up. The day will come where you will want to explore the world on your own, find your own group of friends, do the things that interest you and with all that, you will spend lesser time with us your parents.
I'll dread the day of your wedding, yet i want you to be happy. You need us so much now and at times you run up to us, hug us and tell us you love us out of your simple understanding of this world. Its difficult not to scold you when you are doing the wrong things, its difficult not to give you that smack on the hand when you are not behaving, its dificult not to shout at you when we trying to sleep in over the weekend after a hectic week.
We love you darling… no matter what.