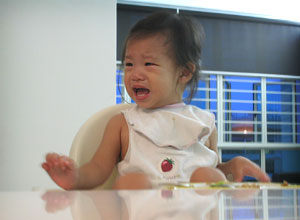 Clié is not always nice and its unfair for me to always put up only the nice bits of her. She can get quite naughty and fiesty especially when she wants something and can't seem to express it.
Being at home the whole day, the little girl can get quite bored. So when i get home from work she gets quite excited. Will play with her abit before we all have dinner. At dinner time the monster in her reveals.
She wants to do everything herself and that means holding the spoon herself, pouring the soup into her rice herself then systematically throwing the chicken wing onto the floor followed by her broccoli and any other thing that she can hold. The finale is then to overturn the whole plate to empty all the contents onto her table then throwing the plate bowl and spoon onto the floor. Then she starts eating from the table without her hands.
As you can see, she protests when we try to stop her.