Today Clié turns 2. I'll update this entry with pics from the party later tonight. If you wanna wish her, do so on this entry. One day she will read it and love all of you for it.
And here is the update!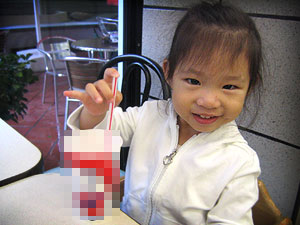 We woke up very early today as its a sunday and its church day, but we woke up even earlier than usual 7.45am. I tickled Clié's belly lightly to wake her up and she started with a smile, then a big grin… it was nice waking her up. Usually she wakes up earlier than all of us.
The night before was quite fun as Anne and Sharon (Pearl's sis) stayed over at our place the previous night to help prepare food. We had supper while preparing food, it was fun.
Anyway, mommy had to stay home to prepare for the party, so daddy brought Clié to breakfast and church.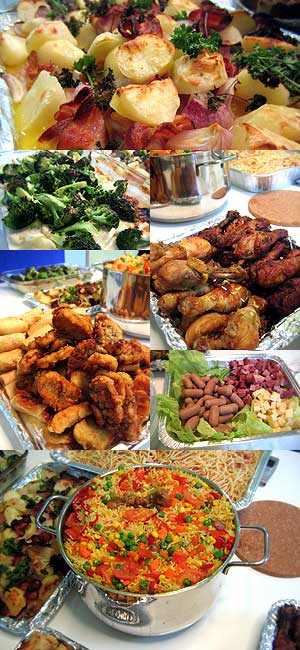 The 3 ladies prepared food, lots of food, lots of really nice food, you can see it for yourself, so for those who could not make it. you can just save this picture onto your PC. hee…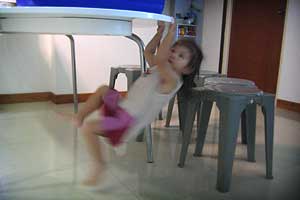 Clié was hyper the whole day, doing this and that.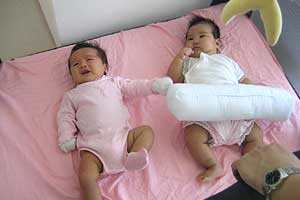 There was a special appearance by JoDee and it was the first time Pearl and i saw her. She was so adorable.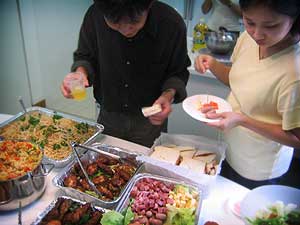 Ok on with the food after a simple grace.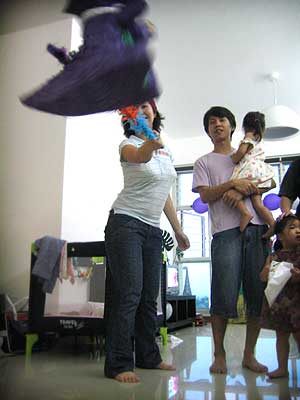 We had a Pinata session and i think this activity was not meant for kids. They hardly had any strength to cause a dent in that thing. Hanah and Clié were both quite afraid of that purple dino pinata.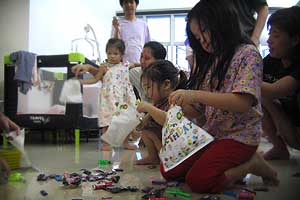 With much help from the adults, all the sweets came bursting out!
There was face painting and for Clié some back painting too.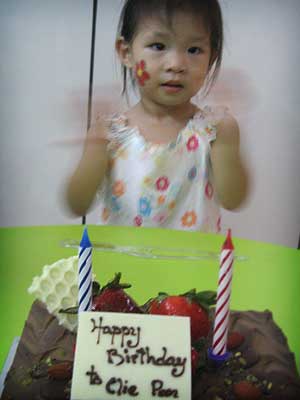 Out comes the cake and she started clapping as she got the concept of clapping when there is cake with candles on it only a few months ago.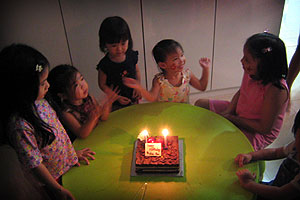 Happy birthday to you!
Happy birthday to you!
Happy birthday to Clié!
Happy birthday to you!
Make a wish. (i don't think she understands that concept yet)
Blow your candles! She did and got some of her hair burnt as well, not much, just a little.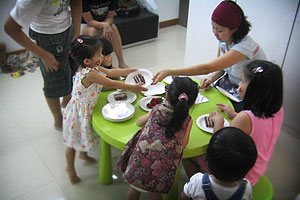 Mommy cuts the cake and by right, the birthday girl should give out the cake.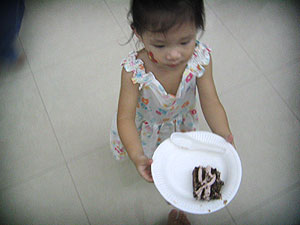 And so she did, we were amazed! She actually went around giving out cakes at 2 years old!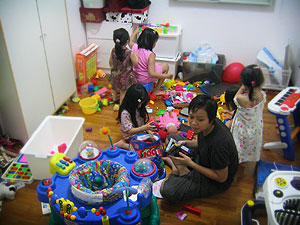 After the cakes, all the kids continued to play toyssssss… sss… yes, alot of toys…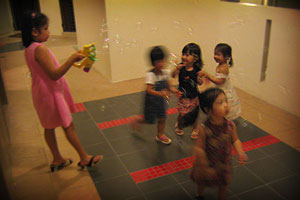 Actually Pearl asked me to think of some games to entertain the kids, but i'm quite bad at stuff like dat so basically did not have any idea… But thankfully, Davis (my bro-in-law) took out a secret weapon, A BUBBLE GUN! and all the kids stuck to him like bees to honey. He brought the kids out to play bubbles and they had good fun. I wish i was a kid again.
I was quite happy to see them enjoying themselves as i had a few friends who were at my place for the first time and have not seen for a very long time, so there was a lot of catching up to do. But as there were so many ppl, i would like to apologise to any of our guest if we have made them felt left out.
The last guest left at 11.15pm and that is the earliest record ever for a get together session at our place.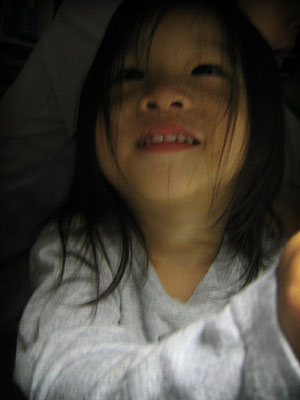 Everyone went home, my little darling had her shower and now its time for bed… Good night my precious one… we love you… may your life be happy…